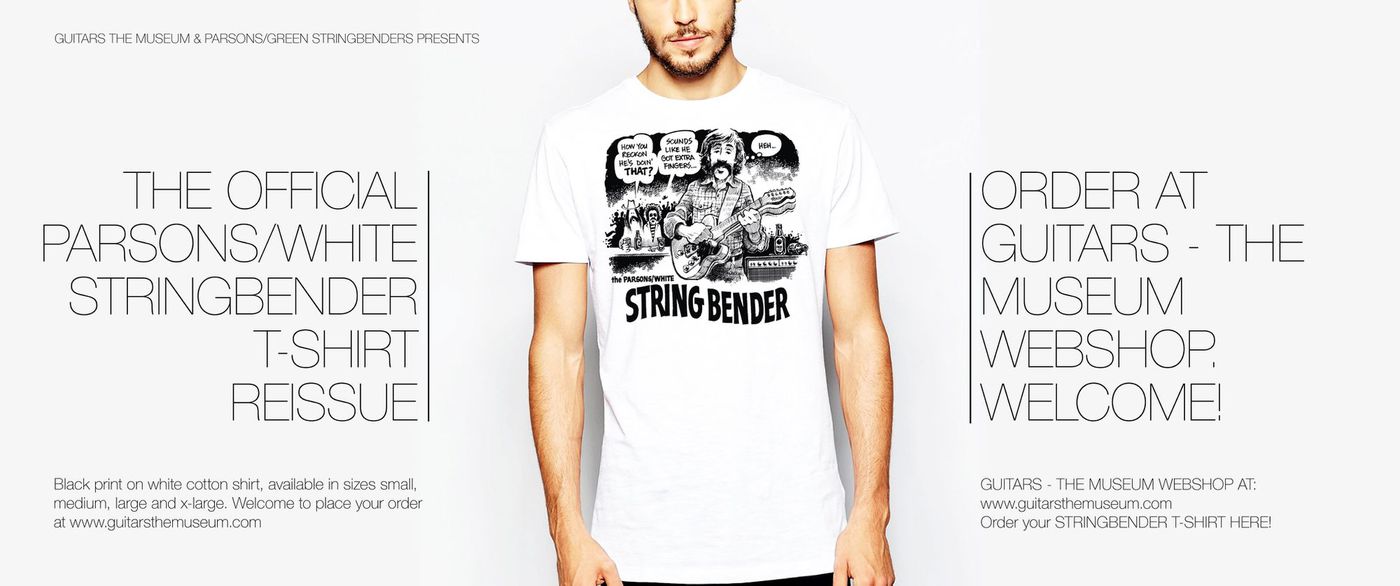 Stringbender - The Story.
Words by Meridian Green.
On that fateful day back in 1965, during a long-forgotten session in a studio in Bakersfield, California, when Gene Parsons pulled the B string over the nut on Clarence White's Telecaster, no one knew guitar playing would be forever changed… or at least would be a bit more bent than before.
Even more surprising, Guitars - The Museum, in Umea - Northern Sweden, is home to 51 bender-equipped guitars and Swedish twins, Samuel and Michael Ahden tell the StringBender story to the world!
From History of the Third Hand
As inventor Gene Parsons says, "Clarence White's musical ideas created the need for a B-Bender and being raised in my Dad's machine shop gave me the skills to figure out how to meet that need. Clarence was exploring the musical possibilities of bending notes on a Telecaster. Late in 1965 Clarence and I were playing on a lot of recording sessions together. We had finished the basic tracks on a tune, maybe a Rex and Vern Gosdin track. Clarence was ready to put the lead guitar track on when he realized he needed three hands for the lick he had in mind."
Clarence White
"One of Clarence's innovative guitar techniques was to chime the high E or B string and bend it up a full tone by pulling the string down above the nut. This worked great in open position but on this particular tune he wanted to play the lick up the neck. He needed another hand to do it. I provided the third hand on that occasion. It was a great sounding lick although having both of us play one guitar wasn't going to work for live performances. We were both intrigued by the musical possibilities of having a third hand to play guitar. I knew there had to be a way for Clarence to bend the string himself. I offered to install pedals and cables like those used on pedal steel guitars. Clarence refused because he wanted something that would fit inside his guitar case."
"After a couple of weeks of thinking about it, I came up with the idea of using the shoulder strap to actuate a string-pulling, note-bending mechanism. Not only would it fit into the guitar case, it would actually go inside the guitar! I drew up some plans that incorporated a steel guitar bridge that Sneaky Pete Kleinow procured for me. After a little convincing Clarence bravely agreed to let me install this contraption in his beloved Telecaster. He said, "Just don't show me until it's done."
"We weren't certain at first which strings to pull or drop or whether to affect two strings at once. We tried all kinds of stuff, including using an armrest as well as the shoulder strap, to do all kinds of things to the first four strings. Clarence found that all he really wanted was to be able to bend the B string a whole step using his shoulder strap. He found a whole new world of guitar licks using a B-Bender."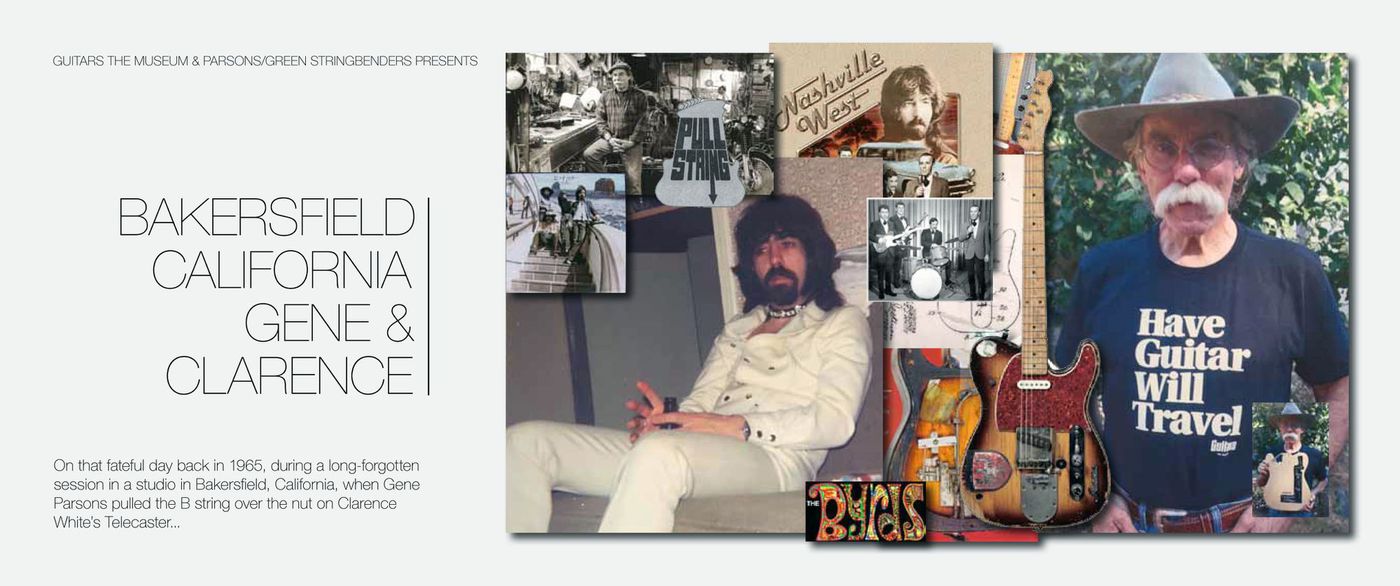 Nashville West
Clarence White, Gene Parsons, Gib Guilbeau, and Wayne Moore, were the house band at the Nashville West in El Monte in 1966. Before Gene gave Clarence his Bender- equipped Telecaster he had the foresight to record their show one night. Nashville West according to Guitar Player Magazine is "One of the top 20 essential country albums of all time." It is a great documentary of Clarence White's innovative guitar artistry.
B-Bender and The Byrds
Clarence and Gene joined The Byrds in 1968. With help from Eddie Tickner who was managing the Byrds, they obtained a patent on their string-bending mechanism. They brought the design to Leo Fender who arranged for Fender/CBS to license the right to manufacture the design. After the new management at Fender let the patent license expire without ever getting the B-Bender into production, Leo left Fender. Clarence White was killed by a drunk driver in 1973. His Telecaster, with the prototype Bender, now belongs to Marty Stuart.
A lot of players were inspired by Clarence's B-Bender licks but, except for a few instruments made by Dave Evans, there weren't many B-Benders to be had. The first top ten hit using Bender licks was the Eagles 'Peaceful Easy Feeling' played by Bernie Leadon using an Evans guitar with a Bender.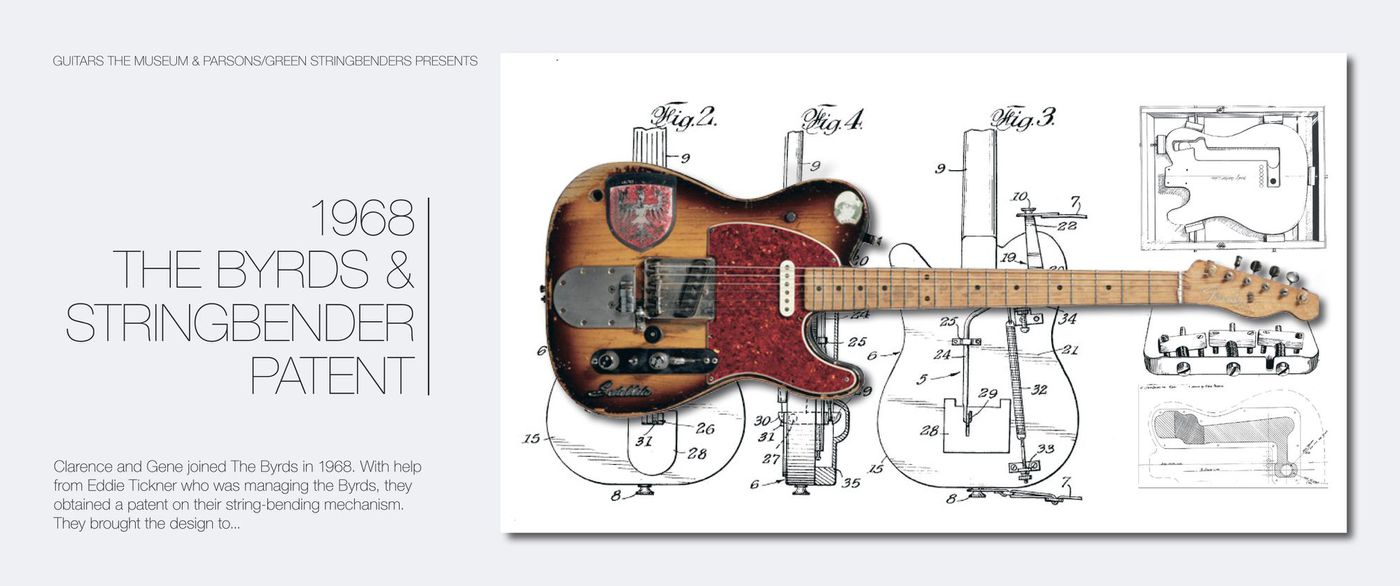 Parsons Machine Shop
B-Benders first became readily available around 1973 when Gene started making and installing them in customers' guitars in his shop in Caspar, California. The first 112 Benders had serial numbers. The customer list of the first 112 B-Bender owners includes some of the finest players of all time. The first B-Bender guitars from a major manufacturer were from Tokai Gakki. Tokai made a couple hundred guitars incorporating B-Benders that Gene made in his shop. Later, under different management, Tokai tried marketing, without success, a device of their own design that bent three strings at once and was available in a paisley Tele-style.
Working Man's B-Bender
StringBenders came full circle when the Fender Custom Shop began offering B-Benders as an option. The enthusiastic response from Telecaster players exceeded Fender and StringBenders wildest expectations. Leo Fender's original vision, to have B-Benders available on Fender Telecasters, came to pass in 1996 with the introduction of the Parsons/Green Fender B-Bender.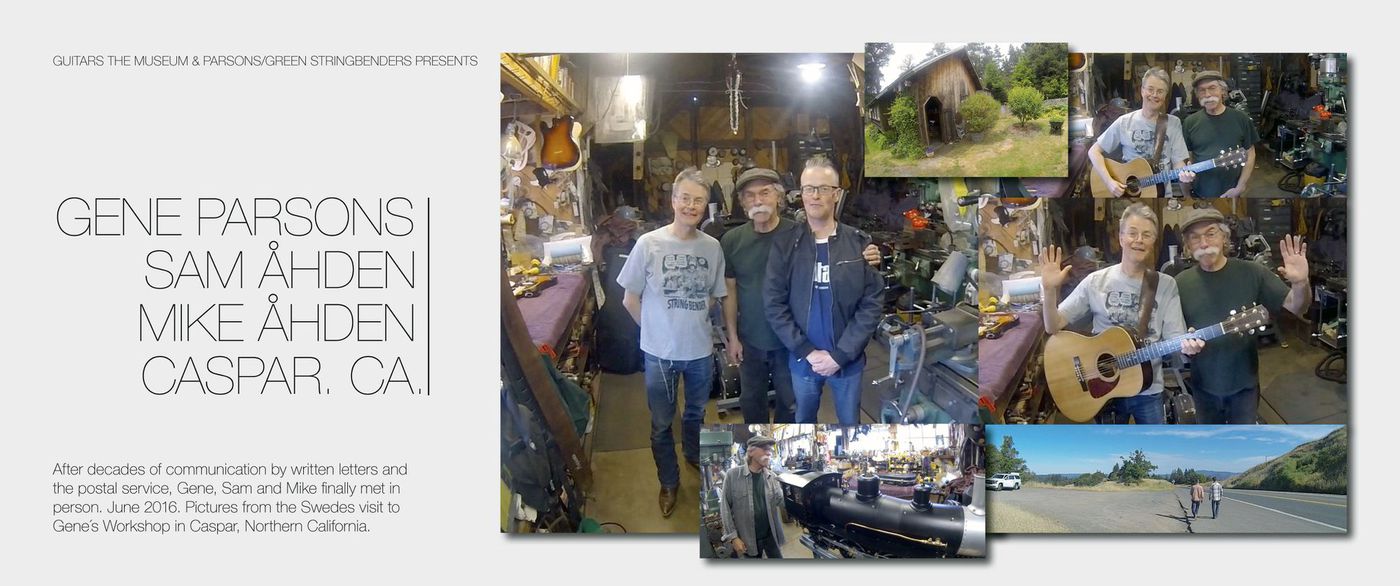 Guitars - The Museum. Umeå. Sweden
Sam Åhden was heavily inspired by The Byrds "Untitled"- album. But he just could not figure out how Clarence White could play those guitar phrases. It intrigued him. One day, Sam recalls it was back in the late eighties, he saw a very small add in Guitar Player magazine. It was a Parsons/White Stringbender add. Sam put two and two together and realized that this was Clarence´s secret trick. Sam contacted Gene in 1991 by written mail and ordered his first B Bender back then. A double binding Telecaster with a reverse headstock got the Parsons/White treatment. The rest is history….and Guitars - The Museum.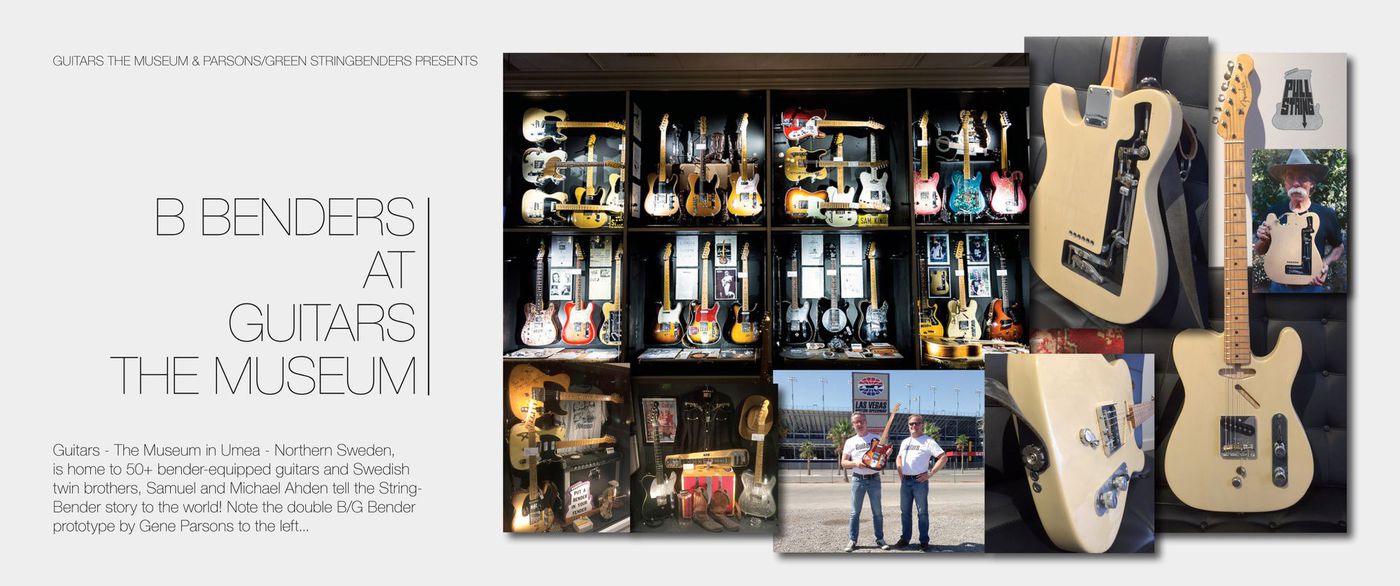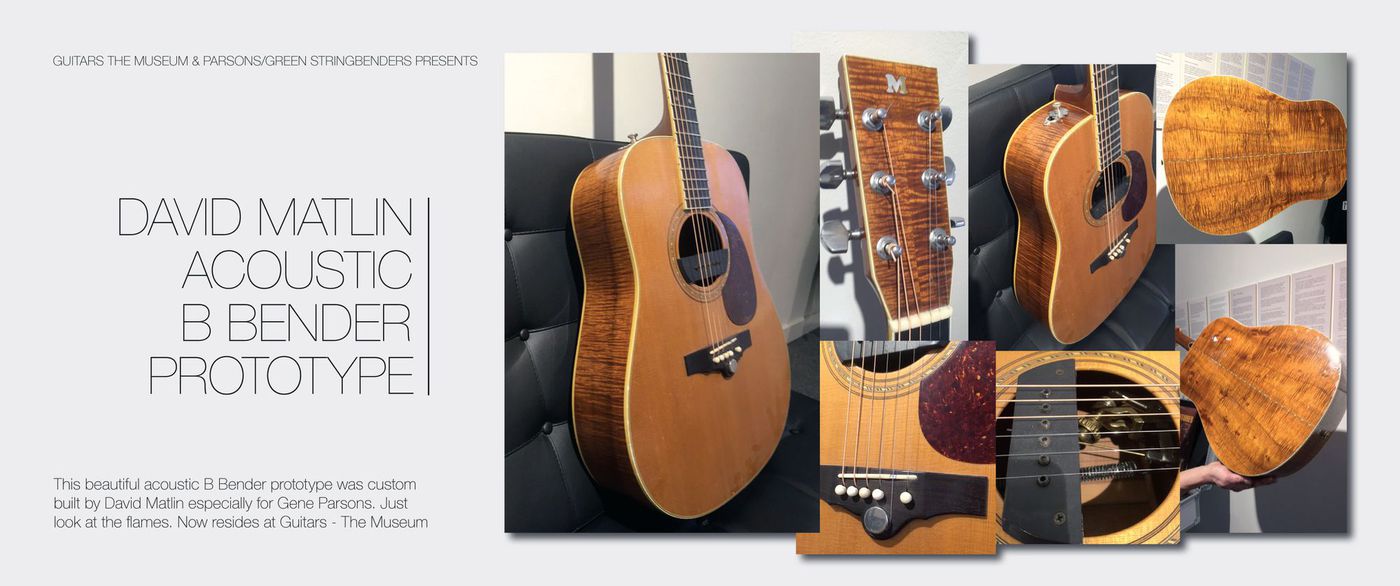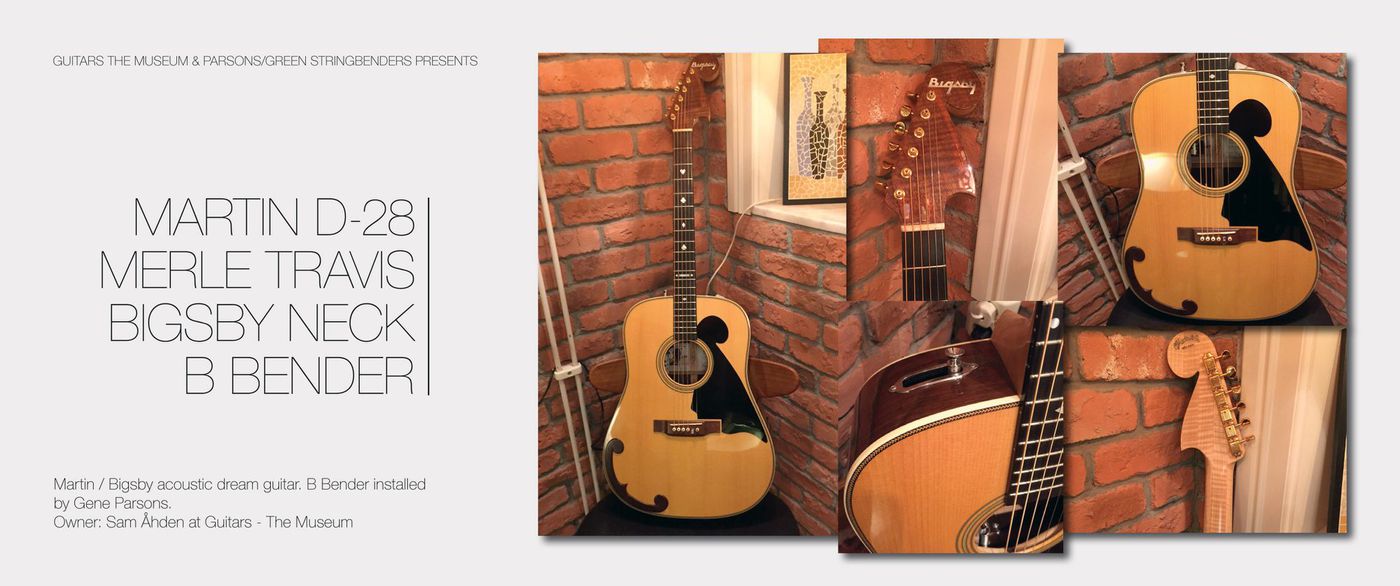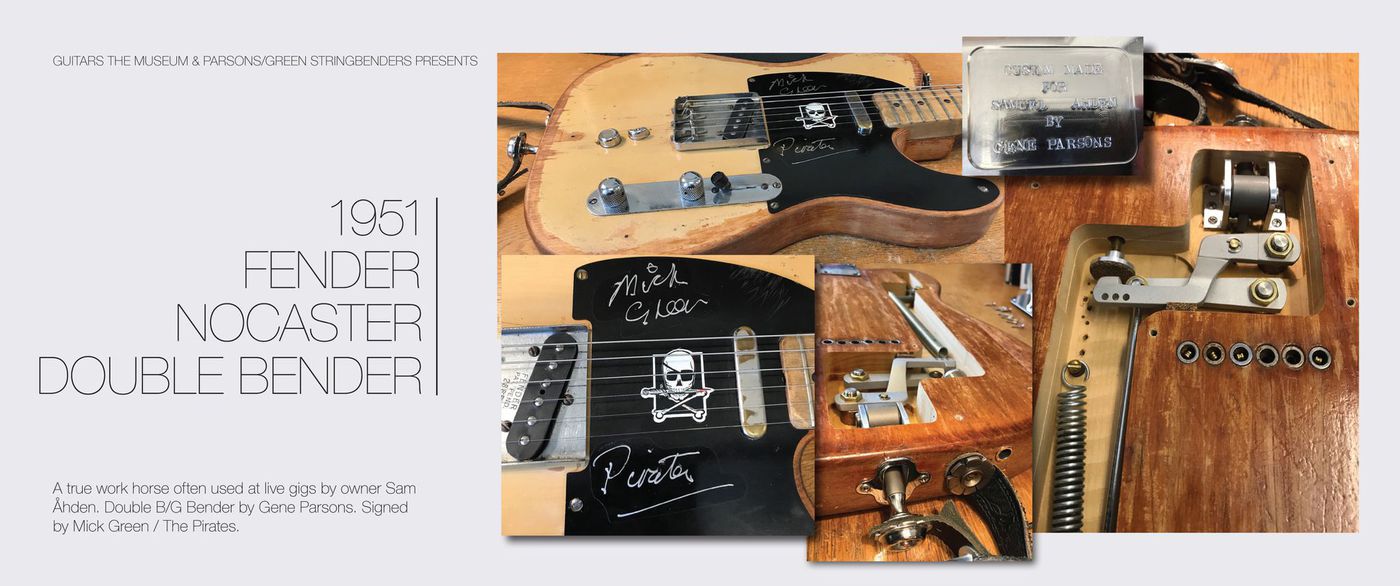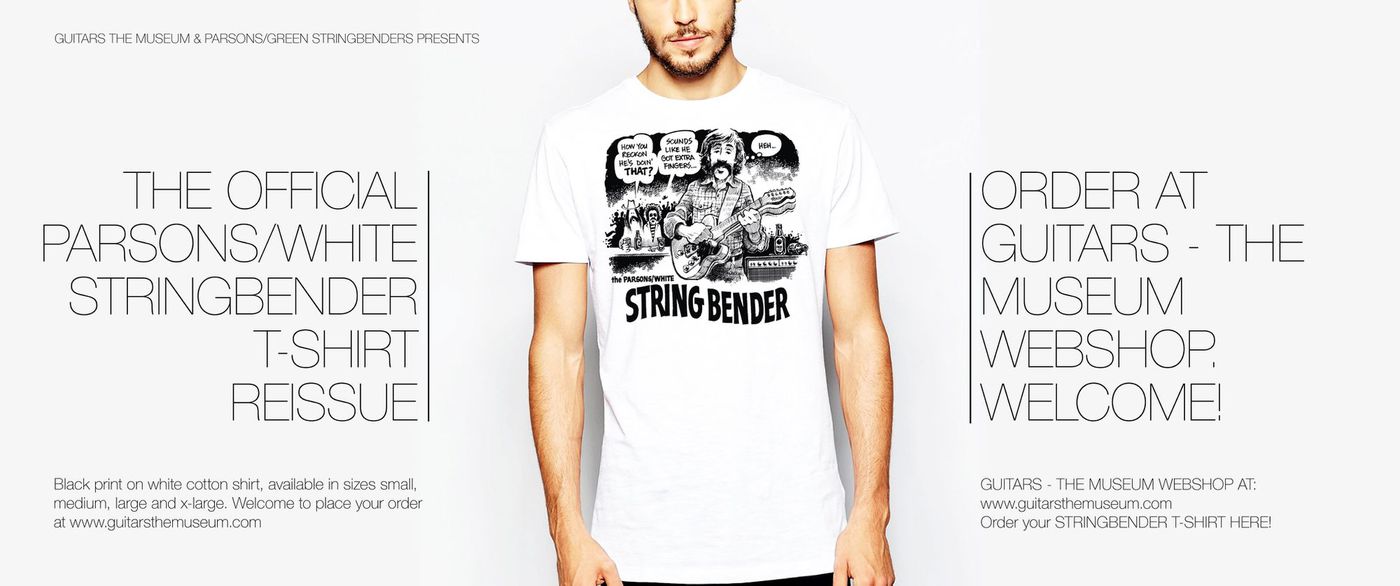 The Official Stringbender T-Shirt - Reissue
John Chamberlin was an extraordinary graphic artist whose hand-painted signs, posters, cartoons, logos and other iconic images helped define the unique culture along the Mendocino Coast and other parts of Northern California. His art and music both reflected the community and helped to create it.
The StringBender cartoon art was commissioned by Gene Parsons to use on brochures and a Guitar Player magazine ad. Gene probably said something like "Hey man, I need some art for a new StringBender brochure" and John, being a gifted musician as well as a graphic artist, took it from there and came up with the concept. Like so much of John's work, the cartoon tells the story of how StringBenders expand what is possible for guitarists, and, at the same time, conveys a snapshot of a night at the Caspar Inn with folks boogying away on the dance floor while a couple of musical compadres sit at the bar appreciating the band and wondering how that guitar picker is playing those licks. It even gives a look into the mind of the guitar player who seems pretty satisfied.